4 Tips To Improve Your IELTS Reading Band Score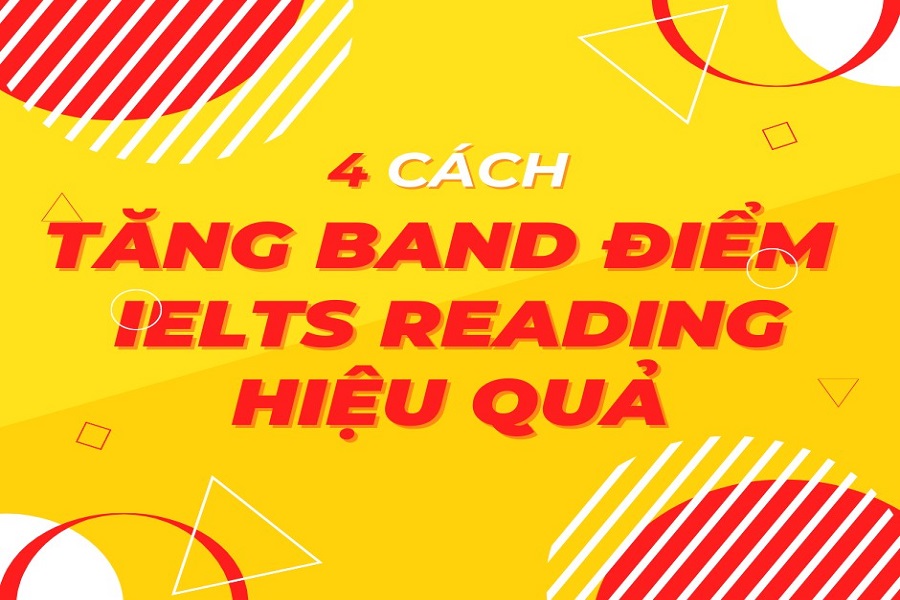 Reading comprehension is one of the crucial skills assessed in any standardized English test, particularly the IELTS examination. If you want to achieve your target IELTS band score, you certainly cannot overlook the ways to increase your IELTS Reading band score. In this article, The IELTS Workshop will share with you some effective and efficient methods to quickly enhance your IELTS Reading band score.
Familiarize Yourself with Different Types of Reading Passages
In the IELTS Reading test, finding the appropriate strategies to tackle different question types such as Matching Headings, Summary Completion, Multiple Choice, and more is key to improving your IELTS Reading band score. However, not all question types can be approached with the same strategy. Typically, the answers for the questions are arranged in the order they appear in the passage. Therefore, for each question type, you need to find a suitable approach to achieve the highest score.
If you aim to achieve a high band score in the IELTS Reading section, practice doing various reading passages and experiment with different strategies to self-improve and identify common mistakes to rectify them.
Master Skimming and Scanning Techniques
Skimming and scanning are highly important skills for successfully completing the IELTS Reading test. Scanning refers to the ability to quickly search for specific information in a passage. Skimming involves reading quickly to grasp the main idea of a passage before attempting to answer the questions.
Usually, the passage will appear before the questions in the test, making skimming a particularly vital skill to save time and understand the overall content of the passage. Additionally, taking notes of key words in the passage is helpful.
If you aim to achieve a high band score in IELTS Reading, practice skimming and scanning regularly. Candidates who achieve an IELTS Reading band score of 7.5+ often possess excellent skimming and scanning abilities. This demonstrates that if you can develop these two skills, you can accomplish your goals in the IELTS Reading test.
Don't Try to Understand Everything in the Passage
In the IELTS Reading test, each question is a challenge for you to improve your information retrieval and comprehension abilities. However, not every question requires you to read the entire passage. Only two types of questions, Matching Headings and Choosing a Title, demand you to read the entire passage.
Therefore, to utilize your time most effectively, focus on comprehending information related to the questions and skip irrelevant parts. This crucial step helps you grasp important information in the passage and answer the questions accurately and quickly.
Improve Your Reading Speed
Completing the IELTS Reading test within the time limit can be a significant challenge for test-takers who are new to preparing for this examination. However, to increase your score, reading speed is a necessary factor that cannot be overlooked.
If you are accustomed to reading slowly during your preparation, start increasing your speed by utilizing skimming and scanning techniques to locate the answers. This means quickly surveying the layout and content of the passage and finding the relevant information for the questions as early as possible. Try to apply these techniques to enhance your reading speed and improve your IELTS Reading test results.
Consolidate and Expand Your Vocabulary
A quick way to increase your IELTS Reading band score is to reinforce and expand your vocabulary. However, many students struggle to find methods to enhance their vocabulary. To improve your vocabulary, you need to understand the meanings and usages of individual words in various contexts. Moreover, learn synonyms and antonyms to use vocabulary flexibly and accurately.
You should also learn phrasal verbs, which are verbs combined with prepositions. Incorrect usage of prepositions is one of the most common mistakes made by IELTS candidates. Lastly, learn about collocations, words that commonly go together in specific contexts, so you can use vocabulary naturally and accurately.
It can be said that no method can replace practice. Therefore, strive to apply these strategies in real practice to enhance your vocabulary and achieve high scores in the IELTS Reading test.
In-depth IELTS Reading Support Course at Oxford English UK
In addition to the above measures, Oxford English UK offers an IELTS course that helps you rapidly increase your band score in all four skills. By participating in this course, you will gain numerous exceptional benefits, such as:
– Designed by highly qualified teachers with years of experience in IELTS preparation, focusing on the skills and challenges commonly encountered by students in the IELTS Reading section. For example, difficulties in reading and understanding the instructions, lack of skills in quickly and accurately searching for information, etc. Accordingly, appropriate measures are provided to improve English proficiency.
– Diverse topics and reading materials to enhance reading comprehension skills.
By following these methods and considering the support of the specialized IELTS Reading course offered by Oxford English UK, you can effectively and rapidly increase your IELTS Reading band score.